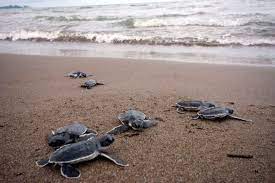 Cozumel announces official start date for sea turtle nesting season
The beginning of the island's sea turtle season in 2023 has been announced by Cozumel City government. The activities for the Sea Turtle Protection Program of the "San Martin 2023 Season" Turtle Camp will begin on May 17, according to Cozumel City officials.
On May 17, groups will start the initial phase of monitoring on the beaches of the island's eastern coast, which is where the majority of sea turtle arrivals occur. Any nests discovered during this initial phase will be marked by volunteers. According to the Deputy Director of Ecology, Germán Yáñez Mendoza, volunteers will later assist with other stages, including cleaning up beach areas and helping with the hatchling's eventual release.
Currently, Cozumel's beaches average 2,000 nests per season, and when the weather permits, about 150,000 hatchlings are released. In order to protect and conserve this endangered marine species, organizations, businesses, and volunteers team up every year from May to December.
According to Yáñez Mendoza, the San Martine Turtle Camp counted 4,100 nests on 20 kilometers of beaches last year. With the aid of 1,215 island volunteers, a total of 134,198 hatchlings were released from those.
------ADVERTISEMENT------
------ADVERTISEMENT------
------ADVERTISEMENT------
------ADVERTISEMENT------