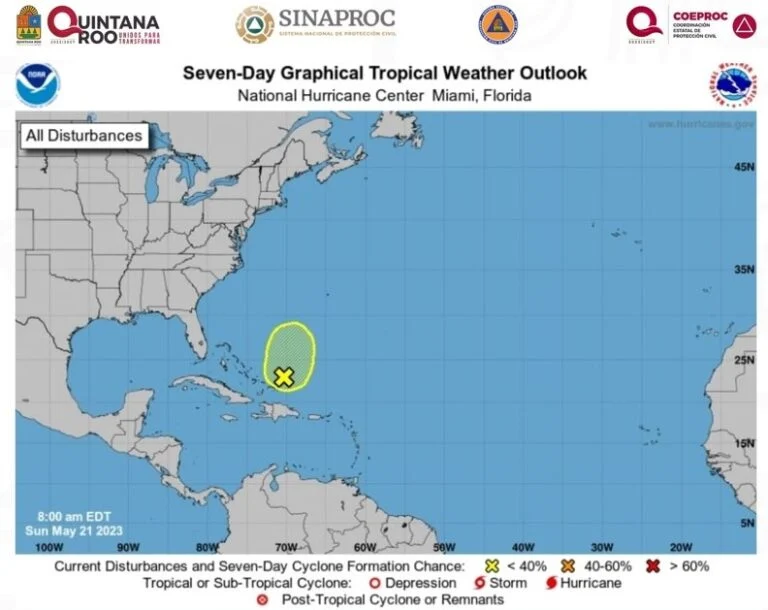 First tropical system of the 2023 Atlantic hurricane season detected by the National Hurricane Center
The first tropical system of the 2023 hurricane season has been reported by the National Hurricane Center in Miami. The American organization discovered the region's first system in the southwest Atlantic on Sunday.
According to the National Hurricane Center, "A surface trough interacting with an upper-level low is producing a large area of disturbed weather extending a couple hundred miles northeast of the Bahamas.
"Upper-level winds are expected to increase later today and development of this system is not expected." The chance of formation through the next several days remains low at only 10 percent.
The State Coordination of Civil Protection of Quintana Roo also reported on the detection of the Atlantic's first system of the season.
According to their statement, they are keeping an eye on the system "based on the report issued by the National Hurricane Center of Miami, Florida, and disseminated by Conagua (Comisión Nacional del Agua) on monitoring and surveillance for the Atlantic Ocean, Caribbean Sea, and Gulf of Mexico in the center of the Tropical Atlantic."
The State Agency continued, "Due to its distance and low probability of development, it does not affect the coasts of Quintana Roo," and that the alert is only a warning of the system that they will continue to monitor.
Every year, from June 1 to November 30, the Atlantic experiences a hurricane season. AccuWeather predicts that the Atlantic will likely experience El Nio this year, which will likely lead to a hurricane season in 2023.
------ADVERTISEMENT------
------ADVERTISEMENT------
------ADVERTISEMENT------
------ADVERTISEMENT------