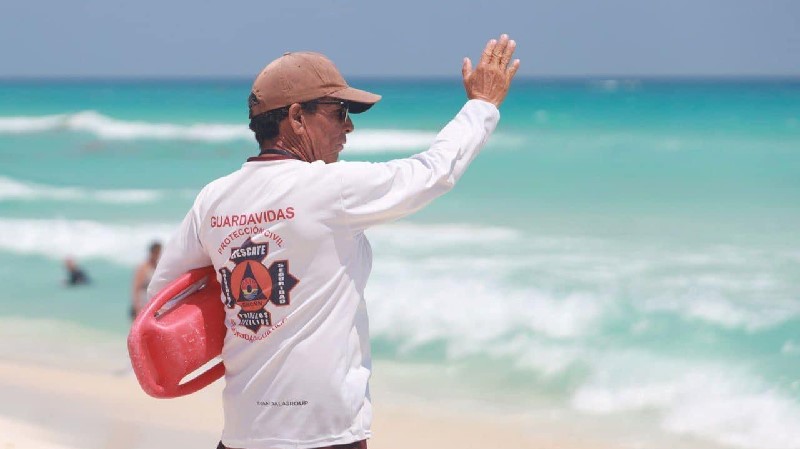 Reinforced presence of lifeguards on Cancun's beaches
Antonio de Jesus Riveroll Ribbon, director of Civil Protection of Benito Juárez, announced that the presence of lifeguards will be increased and the surveillance schedule will be extended in the 11 public beaches of Cancun for the summer vacations of 2023.
In spite of any personnel that may be provided by the Secretariat of the Navy, he explained that they will increase the number of rescuers to 40 due to the rest period. Currently, they have 28 permanent lifeguards, six of whom are from the Fire Department.
Given that most beachgoers stay on the beaches longer during the summer vacation, Riveroll Ribbon predicted that the number of incidents on the beaches will double this season.
"Normally we have between two and four (incidents) a week, surely in these weeks we will have between eight and nine, when the season starts, but this is also due to the fact that people use the majority of the time and the situations that occur are almost always when we no longer have lifeguards on the beach," he said.
Increased lifeguard coverage on beaches
In that regard, he made note of the fact that the surveillance schedule, which is typically from 9:00 a.m. to 5:00 p.m., will change to go from 8:00 a.m. to 7:00 p.m. in order to increase coverage and prevent incidents.
He cautioned, "We have complicated areas, for instance, Marlin and Delfines, which are essentially open beaches and where we have the greatest risk."
According to the head of Benito Juárez's civil protection department, between 40 and 60 thousand people per week are expected to swarm the city's 11 public beaches. As a result, he urged locals and tourists to heed the lifeguards' advice.
He then clarified the significance of the signaling flags. According to him, the green flag indicates that swimming is permitted, while the yellow and red flags warn against swimming and indicate high danger due to rip currents and lagging currents in the sea, respectively.
------ADVERTISEMENT------
------ADVERTISEMENT------
------ADVERTISEMENT------
------ADVERTISEMENT------