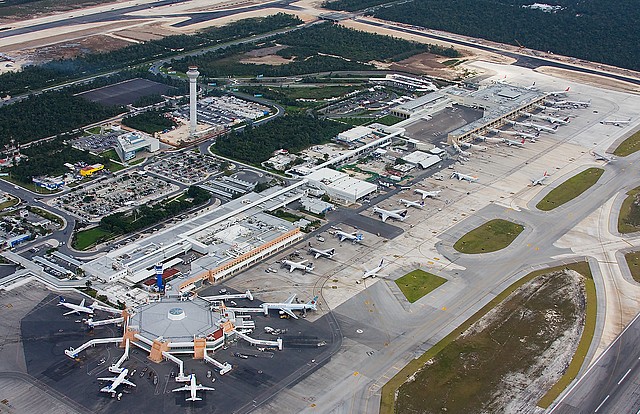 The Cancun Airport is expected to end the year with 35.6 million roundtrip seats sold
According to Cirium data, Cancun Airport will have 35.6 million roundtrip tickets for sale by the end of 2022, an astounding 7.7 million (28%) more than in 2019, despite that year not being quite as well-served as 2018. Between January and September 2022, 22.4 million passengers used the airport, and a record-breaking 28 or 29 million are anticipated for the entire year.
In comparison to 2019, there will be twice as many international as local seats in 2022. Of Cancun's 35.6 million seats this year, some 22.8 million were international. The airport has never had so much international capacity, as clearly shown in the figure below, with the market doubling in size in the past decade, according to Cirium.
64% of the seats in Cancun were international in 2022. Despite the growth, that is hardly a record; the share was higher in 15 of the 18 years since 2004. It simply means that the local market in Cancun has been expanding quickly as well, largely due to ULCCs.
Cancun offered foreign flights to 31 nations this year, two more than in 2019. In contrast to that year before the pandemic, there were flights from Austria (which resumed service in 2021 after ceasing in 2006), the Dominican Republic (which stopped in 2010), Nicaragua (which has not had flights to Cancun since 2004), and Venezuela (returned in 2020; previously served in 2015). Although it will return next summer, it lost the services for Ecuador and Ireland.
------ADVERTISEMENT------
------ADVERTISEMENT------
------ADVERTISEMENT------
------ADVERTISEMENT------