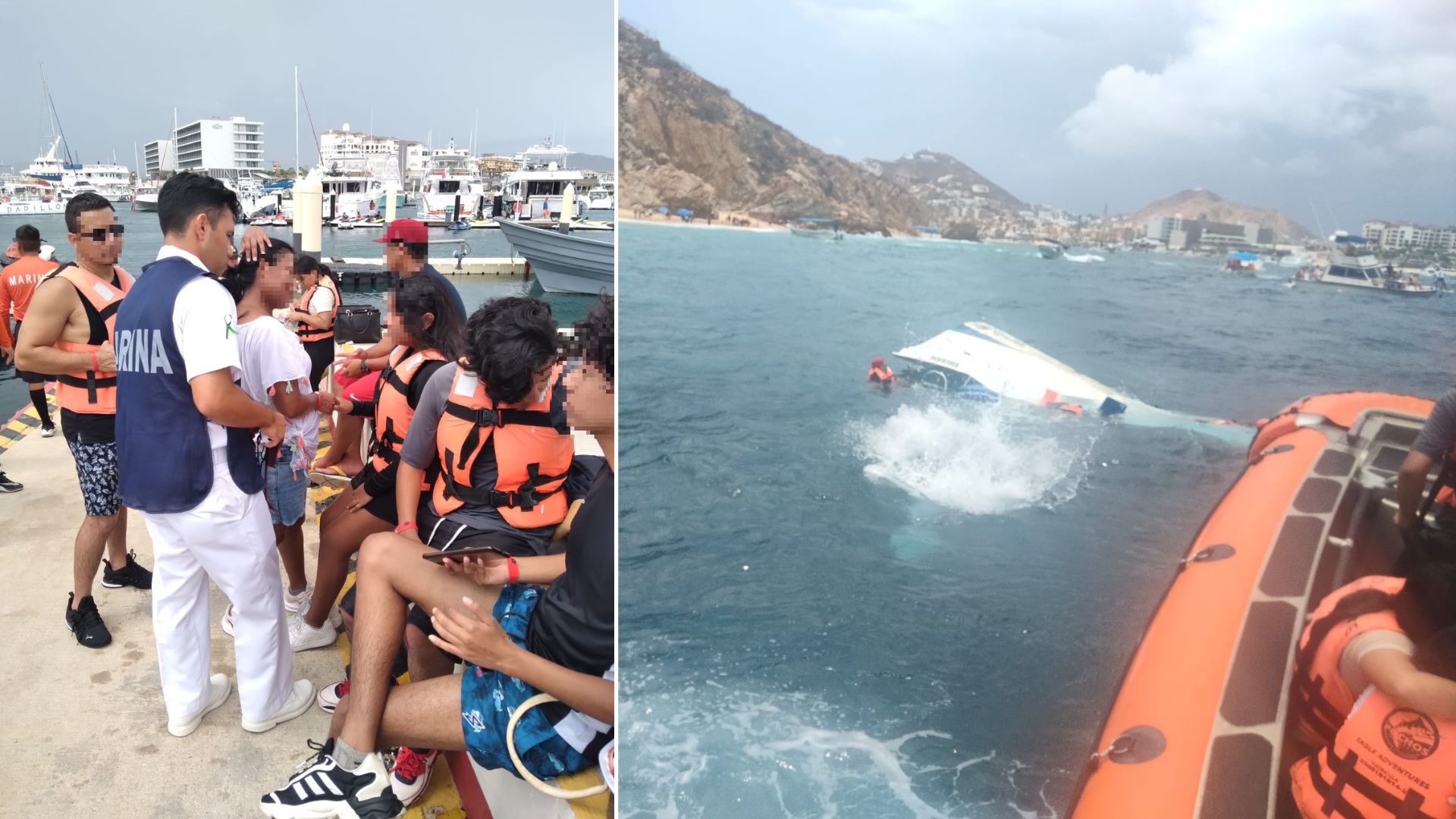 Boat sinks: 22 tourists rescued in Cabo San Lucas
Recently, the Naval Station of Search, Rescue and Maritime Surveillance (ENSAR) of the Ministry of the Navy has carried out several rescue operations in open waters. They focused on the rescue of a total of 22 people in dangerous situations, such as the sinking of a panga-type boat near El Pelican beach.
In a joint operation, the Second Naval Zone and Ensar Los Cabos collaborated to rescue the eight occupants of the capsized boat. Using a Defender and an MLB type boat with specialized personnel, they were able to quickly reach the area and ensure everyone's safety.
As a result of these incidents, the media asked Benjamín García Meza, Undersecretary of Civil Protection in Baja California Sur, about the possibility of the agency imposing sanctions on service providers in these cases. This was in response to a communiqué issued Wednesday by the Cabo San Lucas Port Captaincy, which announced the closure of the port to smaller vessels.
"We have an obligation to protect people's lives, once we get a situation like this, the first thing we look at is if people are safe or if there is not a major event, and in this case of the boat, they did not heed the call of the Port Captaincy, the maritime authority, where there was a black flag, and they went out to provide a tourist service, which of course they shouldn't do, and if there is a sanction, it would definitely be on the part of the Harbor Master's Office for not following a call and putting people's lives at risk," said the Secretary of State for Civil Protection.
In addition to these actions, ENSAR also carried out rescues of people involved in water activities near Del Amor beach, located about one nautical mile away. A total of 14 people were in danger of drowning, which led to their rescue in a Defender type boat to ensure their well-being.
The Naval Station for Search, Rescue and Maritime Surveillance (ENSAR) carried out the rescue operation and managed to transfer a total of 22 people to the dock of the Second Naval Zone. During this process, the medical staff of the Los Cabos Naval Hospital performed medical examinations on the eight crew members of the sunken vessel and on the 14 people who were rescued in danger of drowning, in order to guarantee their well-being and safety.
------ADVERTISEMENT------
------ADVERTISEMENT------
------ADVERTISEMENT------
------ADVERTISEMENT------