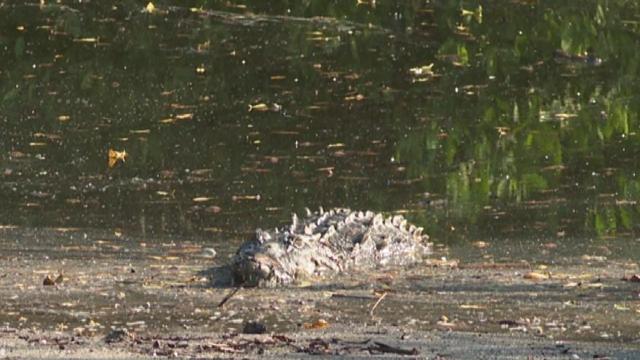 There are 260 specimens of crocodiles in Bahia de Banderas
The tourist area and up to the west of the Bahía de Banderas municipality, from the Ameca River to La Lancha beach, in Punta de Mita are home to 260 young crocodiles that are about 1.20 meters long. These are young specimens because adult specimens are heavily preyed upon.
The biologist Armando Andrade Esquivel, who is in charge of the wildlife division at the regional base of the Nayarit Citizen Protection and Firefighters in Nuevo Vallarta and a member of the Civil Association S.O.S. Crocodiles, provided this panorama.
He explained that this has to do with respecting the habitat, keeping in mind that they are wild animals and that when they invade, only attacks and, in the worst case scenario, fatalities can occur. For this reason, it is crucial to pay attention to the signs put up in the municipality's estuaries and other bodies of water.
He added that society should be aware that this reptile is most active between the months of December and August, as well as during the rainy season, as it is a time for reproduction. Males defend their territories and engage in territorial disputes with other animals, and females are constantly on the move in search of the best nesting sites for their young, which is when humans tend to interfere and conflicts occur.
Andrade Esquivel clarified that all of this information is not intended to be alarmist or to imply that "we will never set foot on land in Banderas Bay because there are crocodiles," but rather that the 240 million-year-old species in the area can be preserved.
He concluded by saying that it is crucial for residents of the municipality to have accurate information that enables them to avoid endangering local residents or endangered species through hunting or predation. For this reason, he added, both forums should be held and the media should be used to their best advantage to broadcast and reproduce them.
With reporting by Isrrael Torres for Tribuna de la Bahía.
------ADVERTISEMENT------
------ADVERTISEMENT------
------ADVERTISEMENT------
------ADVERTISEMENT------