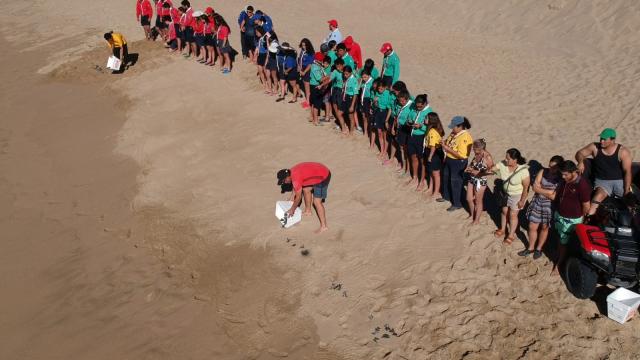 Sea turtle arrival season begins in June
Ricardo Villaseñor Llamas, president of the Asociación Civil Grupos Ecologistas de Nayarit, Campamento Tortuguero El Naranjo, announced that the sea turtle nesting season will begin at the end of June.
Villaseñor Llamas said that each season the number of nests varies greatly due to the effects of hurricanes, because the beach becomes a wall and the turtles cannot climb to lay their eggs.
We at the El Naranjo Turtle Camp have an average of 500 nests per season that lasts six months, that is during the rainy season from June to December and that is our number, but if we go to a beach like Nuevo Vallarta there are more than 9 thousand nests or in Platanitos there are also more than 9 thousand nests.
However, the citizens do not know which is the species that arrives in the region, many think it is the "Loggerhead", but in the Pacific coasts 90% of the turtles that arrive are Olive Ridleys, but it is also important that people know how to take care of these specimens.
With reporting by Brenda Beltrán for Tribuna de la Bahía
------ADVERTISEMENT------
------ADVERTISEMENT------
------ADVERTISEMENT------
------ADVERTISEMENT------