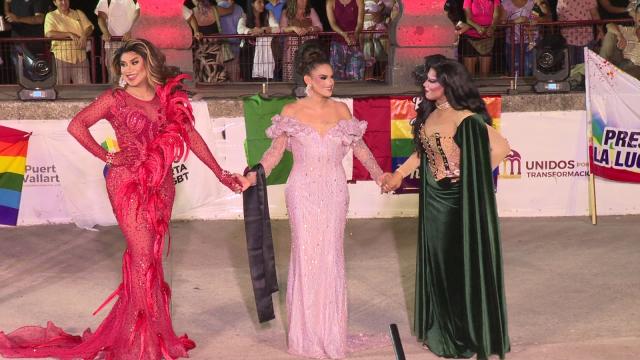 The first Diversity Queen "Miss Vallarta Pride 2023" crowned
In a festive and emotional atmosphere, the first Queen of Diversity "Miss Vallarta Pride 2023" was crowned as part of the celebration of the International Day for the Fight against Homophobia. Andrea, also known as Alondra Mendoza, was the winner at the Aquiles Serdán Open Air Theater, while Mharina came in second and Renata Ruvalcaba came in third.
There were ten contestants, three of whom chose to give their surnames and the rest only gave their names, who made their way down the catwalk in casual dress, swimsuit and gala, also had the opportunity to express a message into the microphone, where some gave their testimony of life and their fight against discrimination, also highlighting the pride of being part of the gay community.
The organization was in charge of Hector "Teto" Ramirez Betancourt, leader of the Vallarta LGBT Collective, with the support of the Vallarta Institute of Culture, directed by Luis Escoto.
Special mention should be made of the emcees, Luigi Gutiérrez and Carlos Plasencia, who made the pageant entertaining. During the intermissions they presented artistic acts with singers, transvestites and dancers, including a special touch given by the saxophonist as musical background on the evening gown stage.
With reporting by Miguel González Guerra for Tribuna de la Bahía
------ADVERTISEMENT------
------ADVERTISEMENT------
------ADVERTISEMENT------
------ADVERTISEMENT------