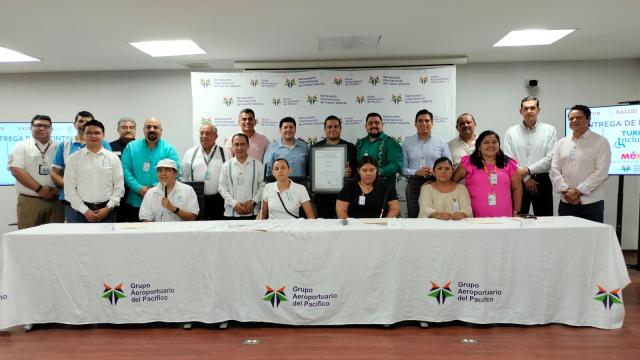 Puerto Vallarta International Airport receives "Inclusive Tourism" badge
The Puerto Vallarta International Airport was awarded the "Inclusive Tourism" badge by the Federal Government's Ministry of Tourism for upholding the requirements of the model of service and consideration for those with disabilities.
It is important to note that this nationally recognized badge aims to promote equity in the treatment of all people. It also encourages tourism businesses to modify their facilities and services to accommodate the needs of all customers through training and awareness campaigns.
The Grupo Aeroportuario del Pacifico (GAP), the airlines, and service providers all strive daily to have an inclusive culture, which increases the competitiveness of this destination, said Cryshtian Amador Lizardi, director of the Puerto Vallarta airport.
He also emphasized the GAP BLUE program, created by GAP and the Teleton Foundation, which aims to advance respect for dignity by fostering an inclusive culture.
Based on the various levels of assistance needed by passengers with disabilities before, during, and after their trip, the GAP BLUE program offers knowledge and care tools. A passenger to-do list or amenities are a few examples of these, along with a cartoon that illustrates how the journey will go.
The Puerto Vallarta International Airport received advice from and worked closely with consultants to address the five factors evaluated by the Sectur, which are: exterior facilities, interior facilities and restrooms, signage, customer service, and information services, in order to receive this distinction.
The airport received this seal both digitally and physically because it achieved a score of 91.76, which is higher than the required 85 to receive this distinction.
With reporting by Brenda Beltrán for Tribuna de la Bahía.
------ADVERTISEMENT------
------ADVERTISEMENT------
------ADVERTISEMENT------
------ADVERTISEMENT------