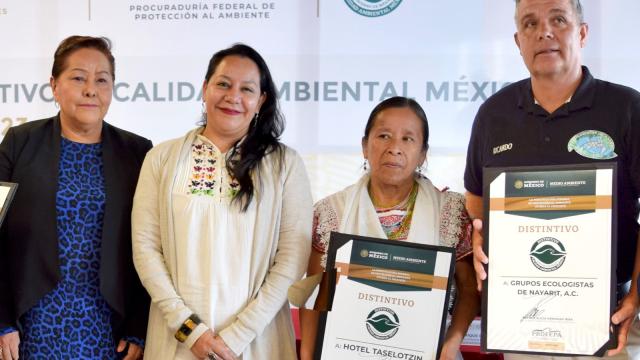 El Naranjo Turtle Camp receives the "Mexico Environmental Quality Award"
This week, the Federal Environmental Protection Agency (Profepa) awarded El Naranjo Turtle Camp with the Distinction of Environmental Quality in Mexico for its compliance with standards such as water and energy conservation, recycling, waste separation, soil conservation, night patrols, turtle hatchling release, environmental education programs, and environmental protection policies.
Campamento Tortuguero El Naranjo has been caring for and protecting sea turtles for 25 years and is located near Peñita de Jaltemba, Nayarit.
The award was presented by Profepa's Dr. Blanca Alicia Mendoza Vera, and María Luisa Albores González, Secretary of Environment and Natural Resources (Semarnat).
Villaseñor Llamas commented that this is a new award and that they are one of the first six organizations to receive it at the national level, and that the goal is for all micro and medium-sized companies that are concerned about the environment to participate and apply for the free program.
"We hope that this badge will be very useful when we are looking for resources from foundations or associations to see that we are really doing things right and that we are complying with the norms that apply to the care of the environment and the little turtles".
With reporting by Brenda Beltrán for Tribuna de la Bahía
------ADVERTISEMENT------
------ADVERTISEMENT------
------ADVERTISEMENT------
------ADVERTISEMENT------