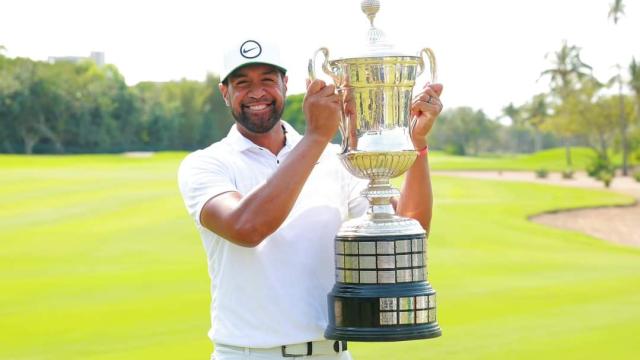 Tony Finau, champion of the Mexico Open at Vidanta
American Tony Finau has won the Mexico Open At Vidanta, beating the Spaniard and winner of the first edition Jon Rahm.
Finau took the lead on the second round and dominated the imposing Vidanta Vallarta course from start to finish, putting in a great performance in the final round to take the title from Jon Rahm.
The golfer from the United States managed to maintain his good rhythm and took advantage of Rahm's attacks, because on the 16th hole, he made a big mistake that almost gave the title to his rival, culminating with 24 strokes under par.
The 33-year-old champion reached the sixth title in his career on the PGA Tour with this one, including three in the last year.
Happy and grateful to the Mexican fans, he highlighted the hospitality of its people and wished that this tournament will be held for many more years, he said at a press conference.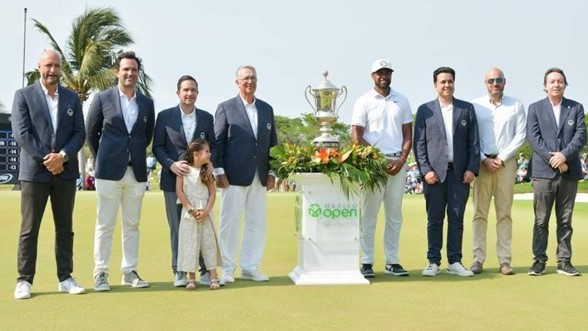 Present at the award ceremony were Ricardo Salinas Pliego, President of Grupo Salinas; Benjamín Salinas Sada, Vice President of the Board of Directors of Grupo Salinas; John Norris, Senior Vice President of Tournament Business Affairs of the PGA Tour; Iván Chávez, Executive Vice President of Grupo Vidanta; Fernando Lemmen Meyer, President of the Mexican Golf Federation; Rodrigo Suárez Guilli, President of the Mexico Open At Vidanta, among other notable personalities and organizers.
For the second year in a row, Vidanta Vallarta hosted this spectacular tournament, which attracted 144 international golfers and put Vidanta Vallarta in the spotlight of important domestic and international media.
------ADVERTISEMENT------
------ADVERTISEMENT------
------ADVERTISEMENT------
------ADVERTISEMENT------