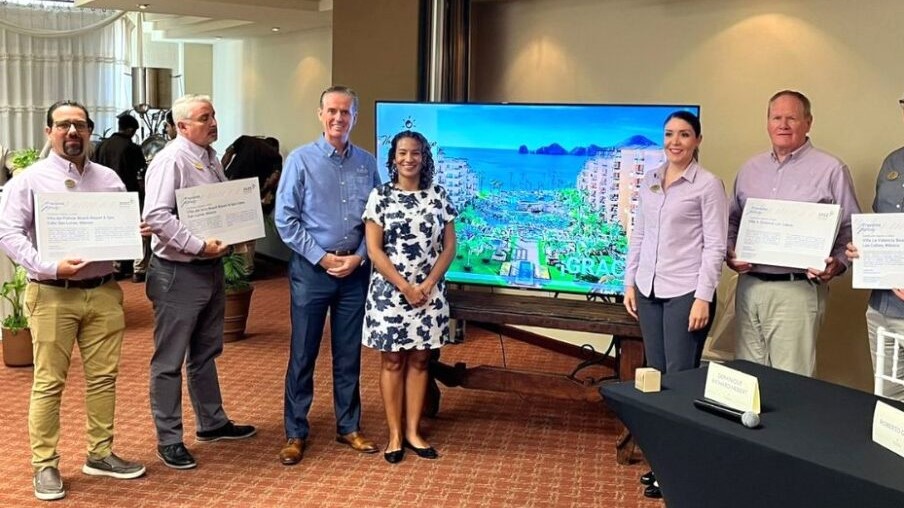 Quality and Hygiene Certifications: Villa Group leads the way in Los Cabos
The Villa la Estancia, Villa del Arco, Villa del Palmar Beach Resort & Spa and Villa la Valencia hotels of the Villa Group chain have been certified at the highest level in the prevention of health risks by Preverisk, a company that certifies tourism companies in health and hygiene matters, offering an added value to clients who visit their establishments.
Johana Velazquez, Director of Operations and Business Development at Preverisk, spoke about the importance of the certifications granted to the hotels of the Villa Group. She mentioned that the verification processes focus on issues such as staff cleanliness, water treatment and food handling.
Today, four certificates will be awarded to four Villa Group hotels for meeting the minimum standards required by Preverisk. All this goes hand in hand with the standards required for the Health Hygiene Protocol, they have had to comply with at least one year of continuous reviews, demonstrating that they are in full compliance with the requirements.
The certifications are issued by the company Preverisk, which grants quality and hygiene labels that are valid for international tour operators. In the case of Mexico, all are valid for federal health authorities.
Preverisk said that any hotel complex or tourist development can be certified, as well as the hotels that are part of the Villa Group. He also reiterated the company's commitment to health and hygiene and recognized the hard work to improve the quality of service of the hotels in Los Cabos.
With reporting by Luis Castrejón for Tribuna de México
------ADVERTISEMENT------
------ADVERTISEMENT------
------ADVERTISEMENT------
------ADVERTISEMENT------