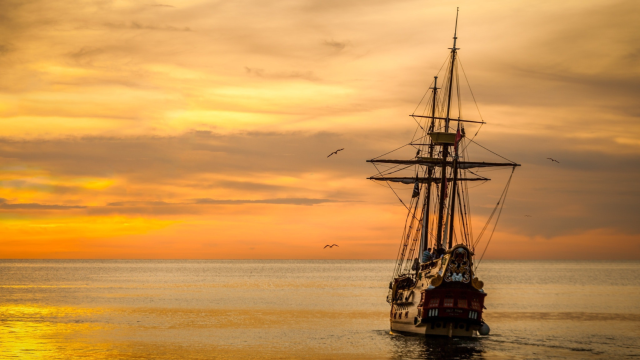 Legends and mysteries surrounding the Los Muertos Beach
Los Muertos Beach, located in Puerto Vallarta, Mexico, is a popular spot for tourists and locals alike. Located on the south coast of Puerto Vallarta, it is surrounded by Basilio Badillo, Manuel M. Dieguez, Amapas and Rodolfo Gomez streets. This beach is known for its natural beauty and relaxing atmosphere.
Numerous legends about the name's genesis (Beach of the Dead) have surfaced over time, and each one adds a layer of intrigue and mystery. Although there are different renditions, each adds to the mystery and allure of this coveted beach.
Epic battles and lost treasures: the pirate tales of the coast
One of the most well-known legends connects Playa de los Muertos to the pirates who frequented these shores back when piracy was rampant. Legend has it that pirates used to land on the beach and plunder and terrorize the locals of Puerto Vallarta. On one occasion, an epic battle that caused a significant number of casualties occurred here on this beach. According to legend, this battle was so devastating that the name "Beach of the Dead" was chosen in honor of the soldiers who died in the line of duty.
Another beach-related pirate legend claims that some pirate ships buried their valuable cargoes in these sands. However, the sailors got into a bloody fight over one of the treasures the ship's captain had forgotten, leaving a trail of dead bodies on the beach. The imagination is aroused by these stories of pirates and battles, which take us back to a time of danger and adventure on the high seas.
An ancient sacred burial ground on the seashore
The beach may have once served as a local native tribe's sacred burial ground, according to history. As Puerto Vallarta expanded, bones were discovered in ceramic vessels while building hotels, providing evidence of an old burial custom. Experts and archeologists who assert that the Los Muertos Beach served as a final resting place for the local indigenous communities back up this version of the legend. Although some think it was also a pirate cemetery, the latter theory is the most supported and believable.
The tourist attraction of the most enigmatic beach in Puerto Vallarta
Beyond the numerous urban legends that surround it, the Beach of the Dead has drawn tourists thanks to its intriguing name and breathtaking setting. Visitors who want to enjoy the sun, the sea, and a dash of mystery are drawn to the area because of its allure of natural beauty and fascinating history. Los Muertos Beach offers a singular attraction that leaves a lasting impression on visitors, whether they are enthralled by tales of pirates and lost treasure or curious about the indigenous history of the area.
Playa Los Muertos in Puerto Vallarta is a tourist destination that combines unspoiled natural beauty with a deep past filled with mysteries and legends. Each version of history adds an intriguing element to this location, from pitched pirate battles to hidden treasure and ancient indigenous burial grounds. Playa Los Muertos is a fascinating and alluring location for travelers regardless of whether they prefer to visualize thrilling encounters on the high seas or learn about the area's ancient culture.
------ADVERTISEMENT------
------ADVERTISEMENT------
------ADVERTISEMENT------
------ADVERTISEMENT------