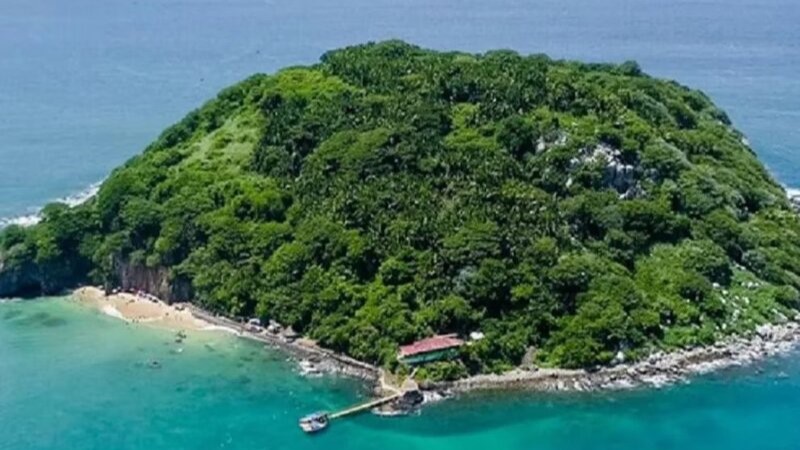 Riviera Nayarit: Five Idyllic Beaches to Explore
Riviera Nayarit is considered the gem of the Mexican Pacific. Its sunsets, a symphony of oranges, violets, yellows, and pinks, along with its rich culinary scene and charming villages nestled along crystalline shores, have established Riviera Nayarit as a leading destination in Mexico.
Within this stunning coastal corridor, there are standout coastal havens that attract thousands of tourists annually. Among the most famous are Punta Mita, an exclusive luxury haven; Sayulita, where the bohemian ambiance of its colorful cobblestone streets meets the carefree surfer lifestyle; and Nuevo Vallarta, boasting spectacular beaches with turquoise waters.
Yet, beyond the historically favored destinations, Riviera Nayarit harbors other hidden gems—virgin beaches with clear waters and golden sands, far from the crowds, towering buildings, and noise. These are places where you can savor simple pleasures: strolls along the shoreline, sunbathing, paddleboarding, or sipping a drink with shrimp tacos, all against a backdrop of the salty sea breeze.
While it's a challenge to narrow it down to just five beaches, here is a list of five sandy shores we believe should not be missed when visiting Nayarit.
Coral Island – in Rincón de Guayabitos – Bahía de Jaltemba Coast
Off the coast of Guayabitos lies an islet known as the "Natural Aquarium of Riviera Nayarit" due to its transparent waters and pearl-like sands.
This is Coral Island, where water sports enthusiasts can snorkel to observe colorful marine life or try stand up paddle boarding. Its calm waters are perfect for a swim with little ones, who can play in the sand and watch the birds inhabiting the area, such as pelicans, seagulls, and boobies.
To reach Coral Island, take a boat from Rincón de Guayabitos, a journey lasting between 10 to 12 minutes. Additionally, water taxi companies offer tours from other points in the region, such as Sayulita, San Pancho, or Punta de Mita.
Staying in Rincón de Guayabitos is an excellent option, as it is one of Riviera's great attractions. Located approximately an hour from Puerto Vallarta Airport, it offers a wide range of accommodations, from luxurious hotels to rental houses or cabins for those seeking more budget-friendly options. The destination boasts clean beaches and emerald-colored, tranquil seas.
Hidden Beach – Marietas Islands – Banderas Bay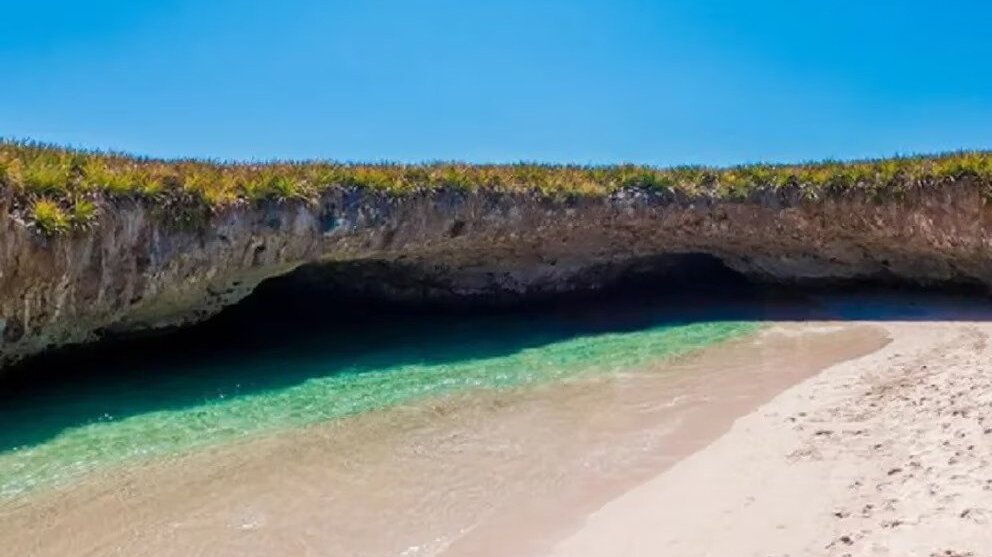 It seems unreal, like a scene from a fantasy movie. That's why Hidden Beach has captivated tourists from around the world, becoming one of Mexico's most iconic destinations and a must-visit when in Nayarit.
What makes it so intriguing is its concealed location beneath a rocky semi-dome that covers the entire beach, opening up to the sky through a crater. This rocky formation kept it hidden from human eyes for decades since it's nearly imperceptible from the outside.
Also known as Playa del Amor, it's a protected area that was even closed to the public for a time due to damage caused by the massive influx of tourists. Since 2016, it has been open for visits, but access is limited to a maximum of 116 people per day, for half an hour each. Therefore, it's crucial to book well in advance, especially during peak seasons.
To reach Hidden Beach, you can book tours departing from Puerto Vallarta Marina, Nuevo Vallarta Marina, Corral del Risco in Punta de Mita, or Sayulita. The boat will drop you off a few meters from the island, and you'll need to swim through a short tunnel. Life jackets are mandatory, and fins are prohibited to protect the coral.
Playa Barro – San Pancho – South Coast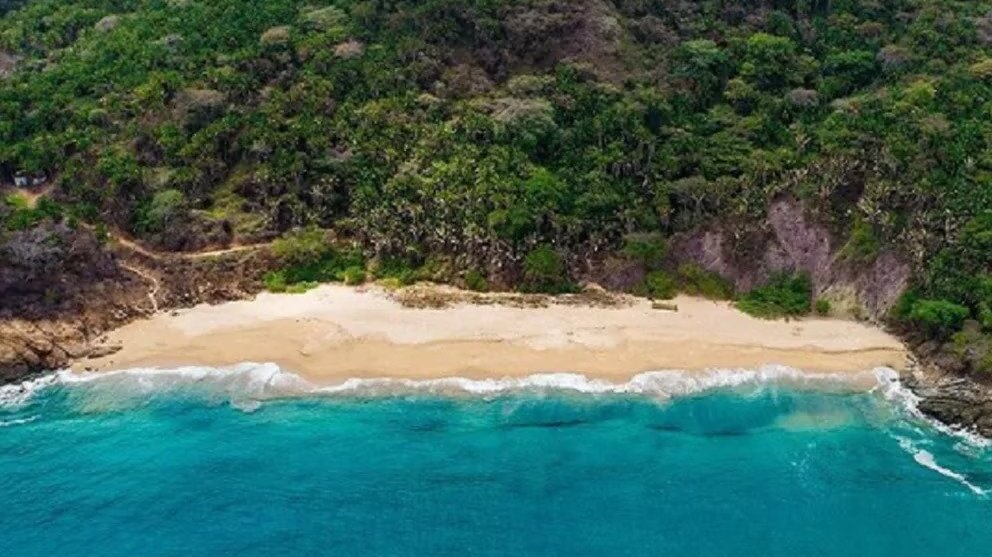 Located 43 kilometers from Puerto Vallarta, Playa Barro is one of Nayarit's best-kept secrets.
This pristine beach, with its emerald waters, is a secluded paradise, free from massive tourist complexes and enveloped in lush vegetation. It's situated on the south coast, near San Pancho, and is easily accessible. First, take a car ride along a dirt road, followed by a 15-minute walk through the jungle.
While it's typically a very uncrowded space, Playa Barro has gained recent notoriety, especially among Instagrammers seeking unique natural settings for their photographs. Part of its allure is the open-air spa experience, with visitors often indulging in the mud found on the hillside adjacent to the beach, which also lends its name to the location.
Playa de los Muertos in Sayulita – South Coast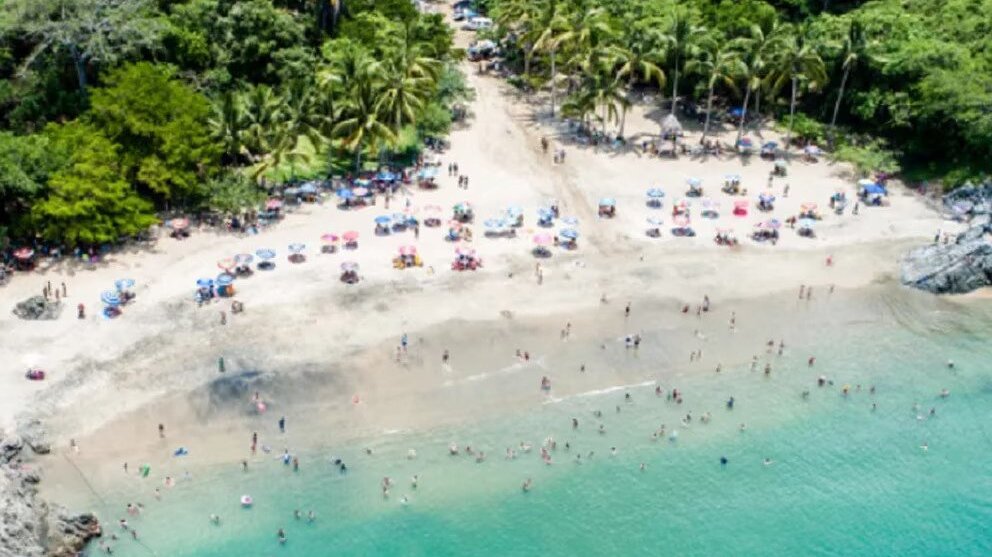 Sayulita is undoubtedly one of Mexico's trendiest destinations, not only in Nayarit but throughout the country. Its youthful spirit, good vibes, and warmth make it an appealing destination for those seeking an energetic vacation. Additionally, its waves captivate thousands of surfers each year.
While Sayulita's main beach is often overcrowded, there's a lesser-known, tranquil spot nearby for those who prefer relaxation in less crowded places. It's Playa de los Muertos, featuring turquoise, calm waters surrounded by lush greenery and silence.
To reach this hidden gem, tucked away amidst Sayulita's bustling atmosphere, you'll need to walk about 400 meters from the town center. Along the way, you'll pass through a cemetery, which gives the beach its name, but the adventure is well worth it.
At Playa de los Muertos, you can swim, snorkel, play in the sand with little ones, or simply relax under the sun. There's also a bar nearby where you can enjoy a refreshing drink. It's ideal for those who want to experience the magical and energetic ambiance of Sayulita while also enjoying a peaceful day in the sun.
Litibú Beach – Higuera Blanca – South Coast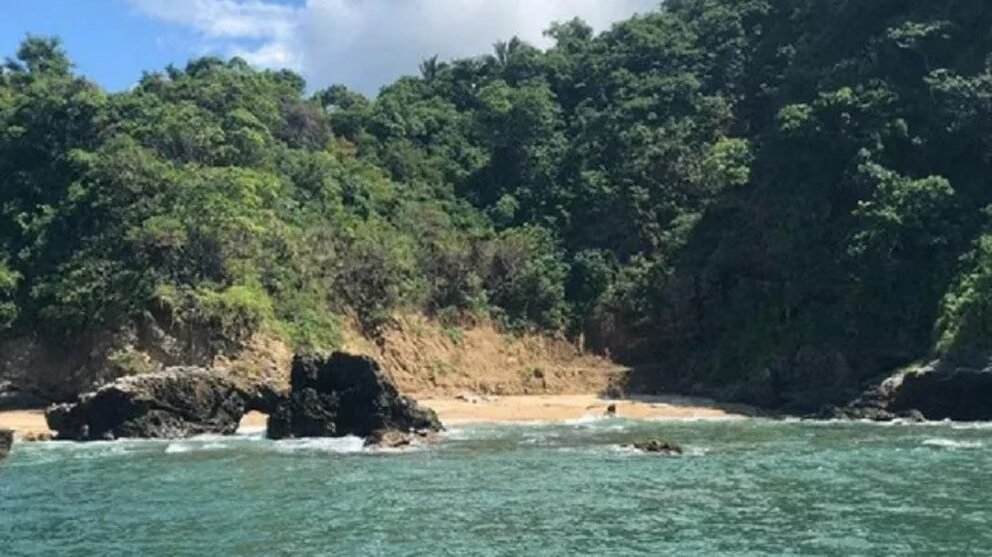 Litibú is the perfect escape for those seeking to disconnect from the world. The scent of saltwater, wild trees growing near the shore, the silence, and the vastness of nature transport visitors to the remote landscapes of a deserted island.
Although Litibú is currently a stunning, solitary, two-kilometer-long virgin beach, it is poised for change. Due to its paradise-like qualities, plans are underway to develop a tourism infrastructure around it, transforming it into a destination similar to Punta Mita.
Currently, there are some residences, apartment complexes, restaurants, and a golf course designed by Greg Norman. Soon, more hotels and construction projects will join them, raising concerns among Litibú enthusiasts who hope the natural charm of Litibú will be preserved.
Riviera Nayarit features many more beahces, attractions and exciting activities to take part in. Do not miss out any of our entries about the gem of the Mexican Pacific.
------ADVERTISEMENT------
------ADVERTISEMENT------
------ADVERTISEMENT------
------ADVERTISEMENT------