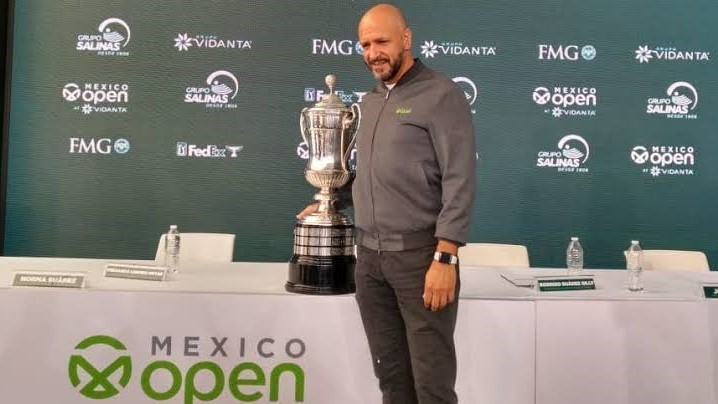 The Mexico Open at Vidanta is creating high expectations
The Mexico Open at Vidanta, one of the most important golf tournaments on the PGA TOUR and the most important event in Latin America, is 13 days away. It will be held at the Vidanta Vallarta golf course from April 27th to 30th.
The prestigious tournament is expecting over 140 professional players who will compete for a prize fund of 7.7 million dollars and 500 FedExCup points.
Rodrigo Suárez Gilly, director of the Mexico Open at Vidanta, confirmed that the event will have a more complete second edition with many innovations for all the fans of this sport.
The best golfers in the world, spectacular golf courses and we will also find a very special way to enjoy Mexican culture and gastronomy.
He also shared that the experience of the organizing committee, getting to know the people of the region, the course and so many things that go into an event of this category, allow them to ensure that this tournament will be better than the previous one.
On the other hand, he mentioned that it is a challenge for them as organizers.
We are aware that the first editions are very challenging and that the first edition last year went very well, so we hope that this year will be even better, because the expectations are very high, so we invite the public in the area to enjoy the best golf in the world, because we will have the most important circuit of this sport, the PGA Tour.
He invited people to take the opportunity to enjoy an event of this magnitude, surrounded by beautiful golf courses, great atmosphere, food, music, drinks, in a tournament for the whole family.
Tickets for the Mexico Open at Vidanta are on sale at ticketmaster.com.mx. For more information, visit their website www.mexicoopen.mx and follow them on their official social networks @MexicoOpenGolf, Twitter: @MexicoOpenGolf and Instagram: @MexicoOpen. They are currently offering a special discount on their website.
------ADVERTISEMENT------
------ADVERTISEMENT------
------ADVERTISEMENT------
------ADVERTISEMENT------