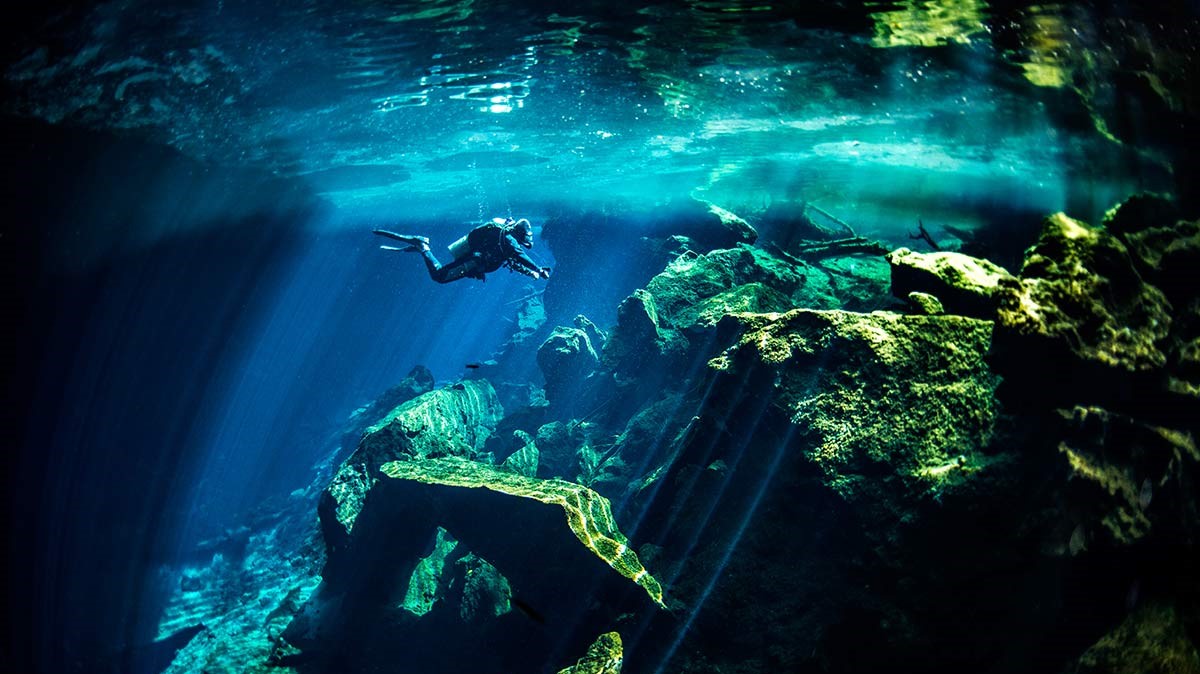 4 Amazing Cenotes Near Cancun
Anyone who has visited Cancun knows it is a stunning location full of thrilling activities, amazing locations, and enjoyable experiences. One of the best things to do is visit the amazing cenotes near Cancun if you enjoy being outdoors, swimming in natural pools, and learning about new areas.
Cenotes are essentially sinkholes or enormous cave networks that develop when a cavern's ceiling or the ground gives way, allowing them to fill with cool, clear, fresh water.
There are different kinds of cenotes, but the two most popular are open-air cenotes (where the roof has collapsed in on itself and is exposed to the sky) and cave cenotes (when most of the roof remains almost in its entirety).
The Yucatan Peninsula has four cenotes you should visit if you want to experience adventure, explore stunning vegetation, and learn the secrets they hold.
Cenote Zaci, Valladolid
The location of Cenote Zaci in the heart of Valladolid's center makes it readily accessible. Because a number of sections of the cave roof has partially fallen, it is a semi-open cenote that benefits from having a lot of natural light. It has a large pool that can be used for a wide range of activities.
There are bats, lizards, colorful fish, and other creatures inside this cenote. You can also be in awe of the stunning stalactites and the rich greenery in the cave (unique to Zaci). Its elevated perimeter trail, which is ideal for jumping off cliffs to get an adrenaline rush, is a major benefit. Given that it is only three blocks from Valladolid's historic center, it has one of the best locations of any cenote you can find.
Cenote Zaci is about two hours away from Cancun.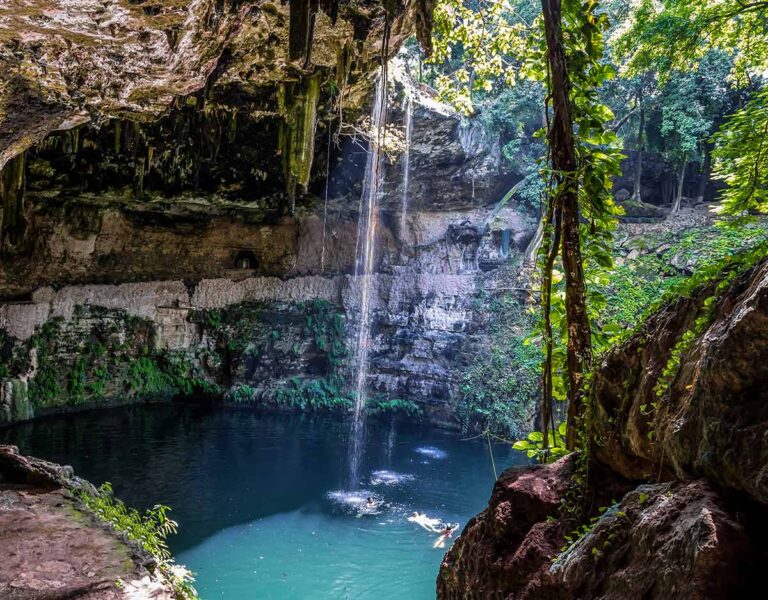 Cenote Dos Ojos, Tulum
One of the most stunning cenotes you may locate is Cenote Dos Ojos. It has a spacious ring-shaped opening with lots of room for exploration. The cenote is amazing because it is illuminated by the afternoon sun, which provides a breathtaking perspective of the area and its surroundings.
The finest thing about Cenote Dos Ojos is the gorgeous cave formations, the huge variety of spectacular stalactites and stalagmites, the illumination throughout the area, and the depth of the water. If you wish to snorkel, it is perfect. There is plenty of room to dry off after swimming and unwind in the hammocks near to the water. Dos Ojos is one of the nicest places to go cave diving.
Cenote Dos Ojos is about 1 hour 45 minutes from Cancun.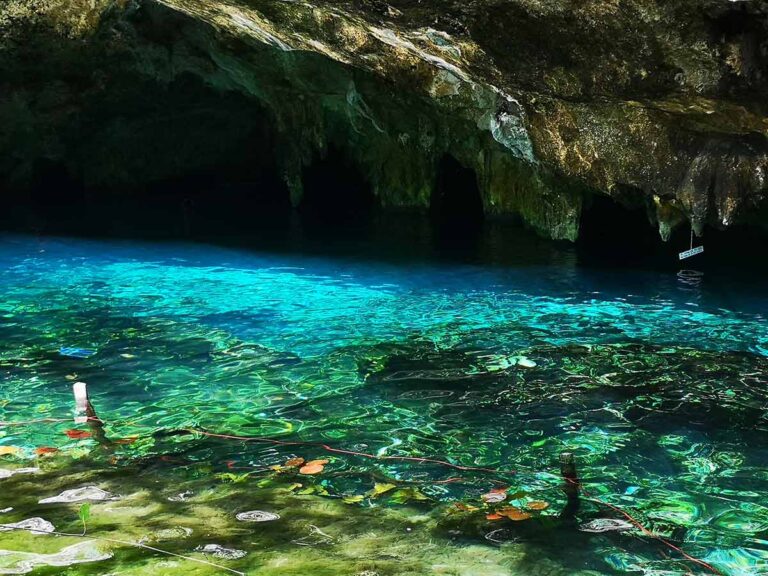 Cenote Azul, Playa del Carmen
South of Playa del Carmen, very close to the beach road, is where you will find Cenote Azul. It is well-known due to its lack of a roof.
Its opening is bathed in sunlight that filters through the top of the jungle canopy. This cenote is among the most attractive ones near Cancun thanks to its wide variety of freshwater pools that have gorgeous turquoise hues.
Children and non-swimmers will love it because it has lovely shallow pools. Additionally, if you are an adrenaline junkie, you can jump off cliffs and take in the stunning jungle environment; there are things to keep everyone entertained. Cenote Azul is a great destination for families because it is close to many restaurants and picnic places if you get hungry.
Cenote Azul is roughly 1 hour and 15 minutes away from Cancun.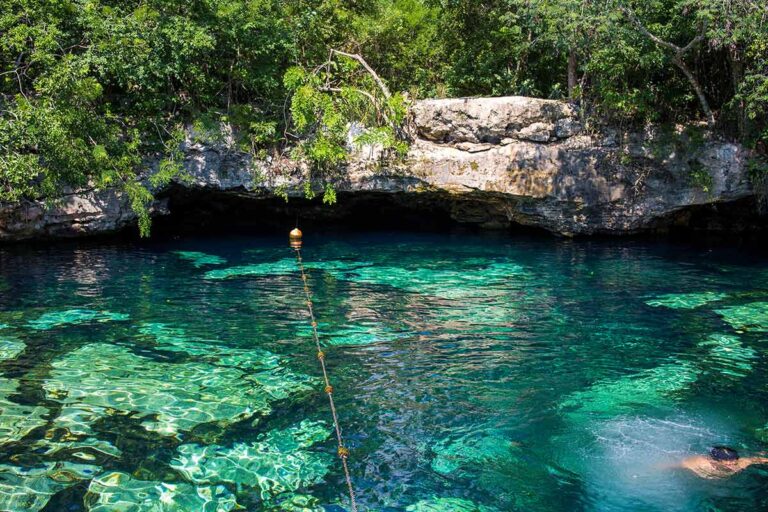 Cenote Jardín del Edén, Playa del Carmen
The cenote is tucked away in the forest, but once you discover it, you will be greeted by a stunning open area that is colorful and home to a wide variety of plants and animals. The warm sun is a great spot to relax when swimming or lying down. It boasts a sizable outdoor pool that is encircled by luxuriant vegetation.
Cancun is roughly an hour and fifteen minutes away from Cenote Jardin del Eden.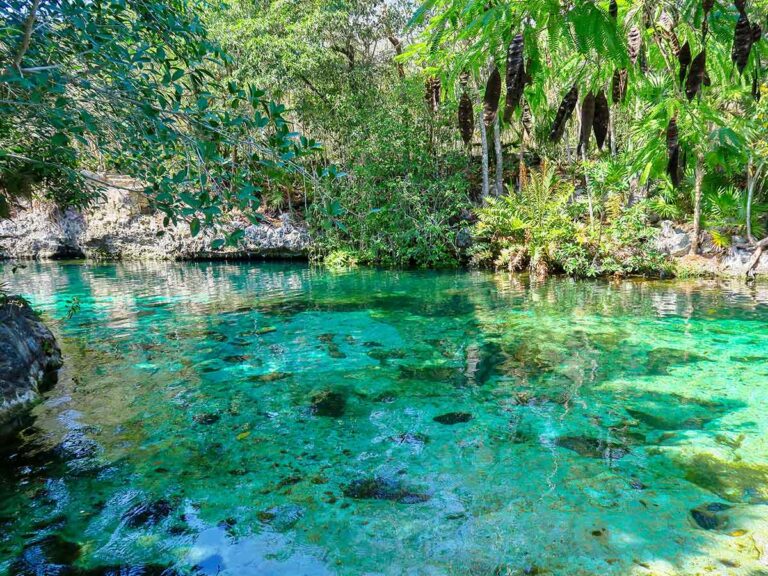 ------ADVERTISEMENT------
------ADVERTISEMENT------
------ADVERTISEMENT------
------ADVERTISEMENT------