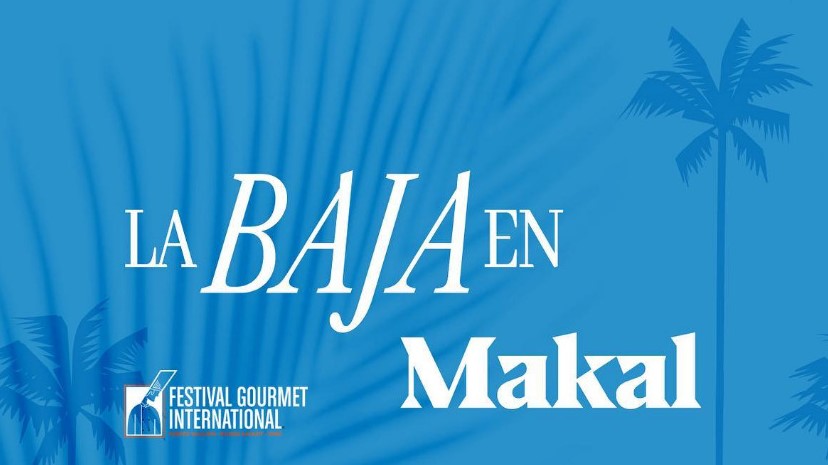 A visit to Makal during the Festival Gourmet International
It is that time of the year in Puerto Vallarta. The weather has just changed, humidity is gone. It is so perfect that visitors start arriving in droves to enjoy everything this piece of paradise has to offer. It is also time for the Festival Gourmet International, the highlight of the gastronomy year in the bay.
This is its 27th edition and as usual, there are a number of eateries worth visiting. Today, we will talk about a young establishment called Makal. The creation of also young chef Diego Guerrero, Makal has been in operation for just a couple of years. I was in the opening event of the Festival Gourmet at TierraLuna Gardens and I decided this would be the first one I would visit. I talked to Mrs. M, my better half, and convinced her it was a good idea to spend a Saturday evening dining out, so off we went.
Makal is in a privileged spot, right in the heart of the action in Old Vallarta's Romantic Zone. The area was busy with the goings and comings of tourists and locals. The first impression you get when you step in is one of confidence. The staff greets you with a wide smile and makes you feel at home from the very beginning.
For the Festival Gourmet International, their concept is La Baja en Makal. They are offering a ten-course tasting menu created by guest chef Oswaldo Flores, who came all the way from Tijuana to join chef Diego during the Festival days.
On to the dining experience. As we ordered drinks, the first surprise came. I went for a raicilla cocktail that came in a bird-shaped glass. I had to sip through a dovetail, literally! The first course was an oyster tartar with smoked rib eye served with a tostada, bathed in hollandaise sauce. The meat was tender and tasty, a good kick off to the evening.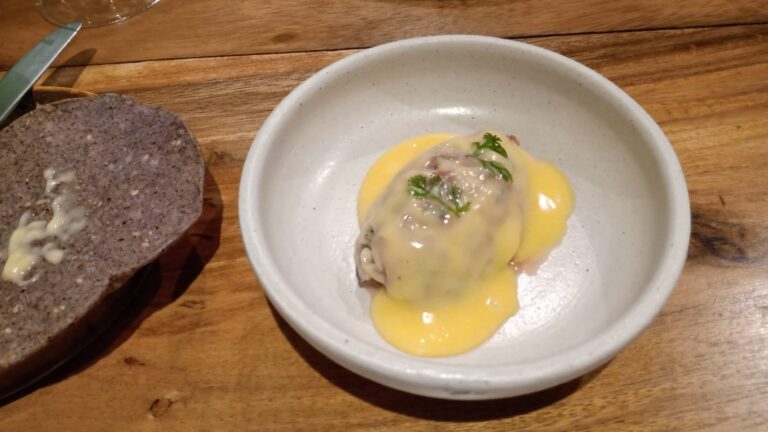 Then came the Tostada Pacífico. You know a dish is good when a chef decides to baptize it with a special name. This tostada is no exception, as the combination of cured mahi-mahi, mussel pate and burnt cucumber creates a full new flavor. Things were getting better.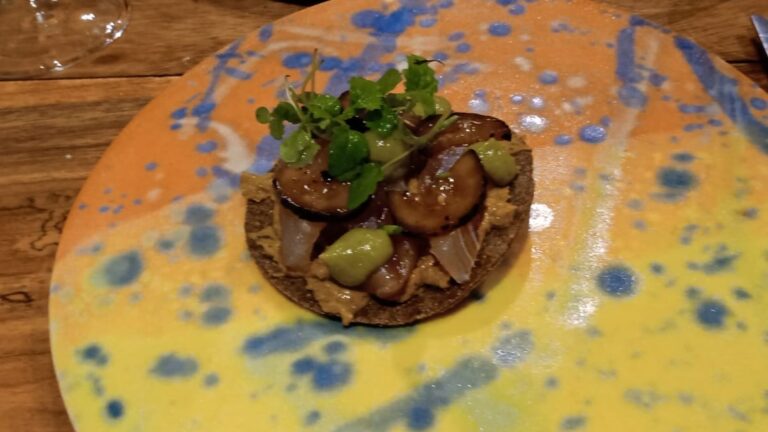 Our third course was a transition one. Delicate green papaya slices with cured fish, tomato and basil cleanses your palate and prepares it for the next dishes.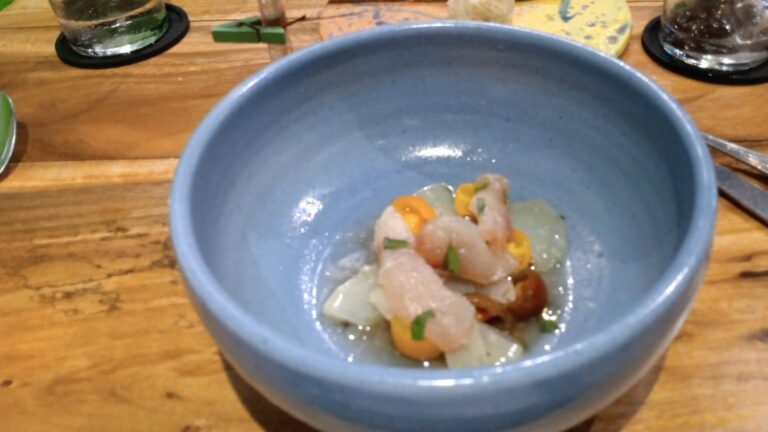 With the warm Caesar salad that followed came the next surprise, at least for me, an irredeemable carnivore who has never been fond of salads. This one made me wonder if I have lived in the wrong all my life. It was so surprisingly tasty that I had to call the chef and ask him about it. He just smiled and gave me that look of "ah, yet another convert!" Not ready for that much quite yet, Diego!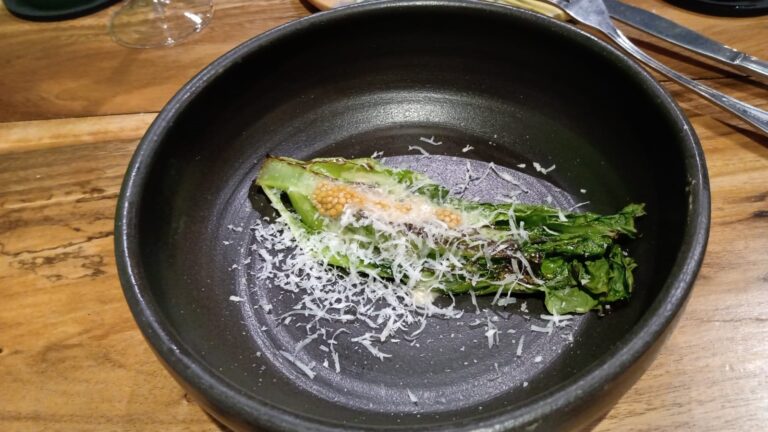 An heirloom tomato carpaccio with burrata came next. Here it became evident one more time that the whole is greater than the sum of its parts as the resulting flavor of the seemingly simple ingredients combined explodes in your buds.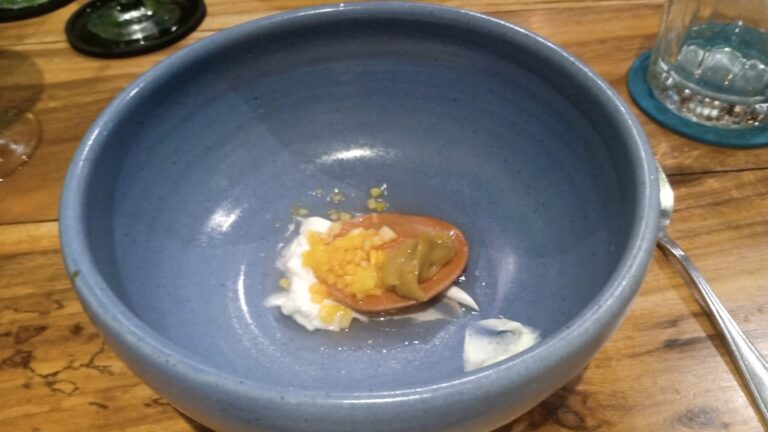 By now it was time for a beverage refill, and to our server's recommendation I tried a smoky sotol cocktail. And when I say smoky, I mean it. It comes in a book-like box. As you open it, a cloud of rosemary aroma spreads all over as you taste the beetroot and cranberry inside.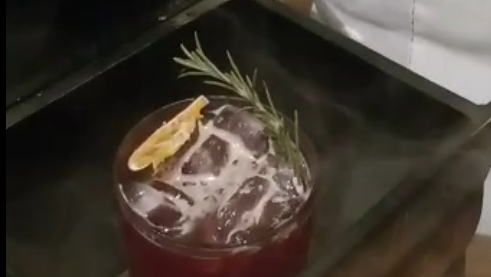 A barley risotto with eggplant and beef jus served as the second transition dish, getting us ready for the meaty part.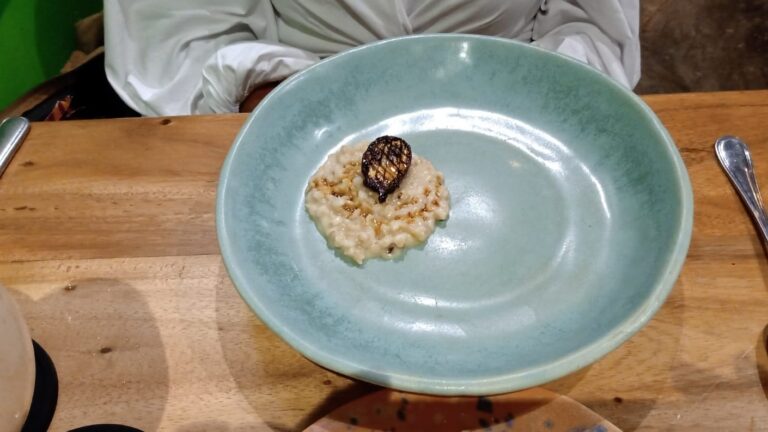 And meaty it turned, with the pan-seared mahi-mahi sided by cauliflower and white chocolate puree, broccolini, and fermented fruit mole. Here you will have to excuse me as we were so excitedly talking about the food and the drinks that I completely forgot I had to take a picture, so I will use one from their Instagram page.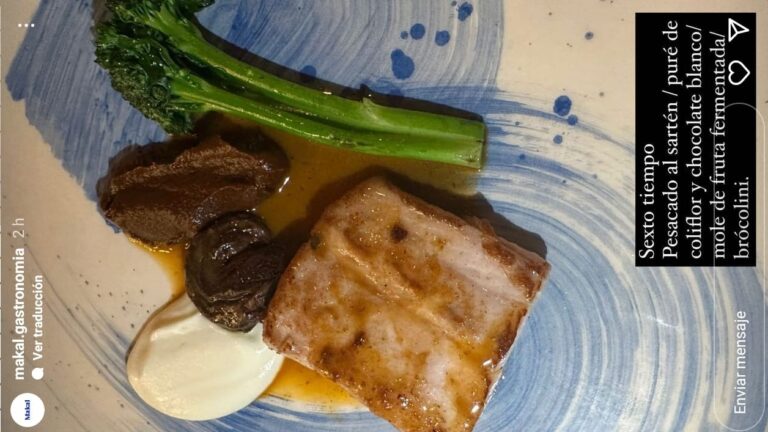 Then my favorite of the night, the braised oxtail (remember the irredeemable carnivore part?). A totally tender piece of meat; you could tear it with your fork. I went through it with the patience of a meat lover, dip it in the potato mousseline and enjoyed it thoroughly. Actually, I enjoyed a chunk of my companion's piece as well. Mea culpa.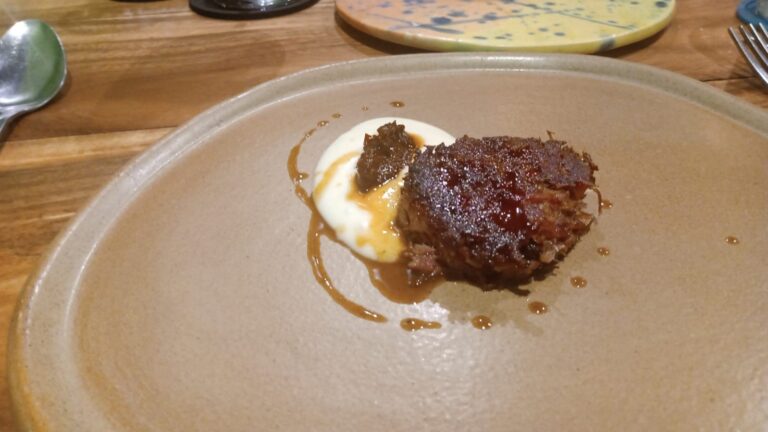 It was time to start winding down. The sweet part of the menu was coming, to Mrs. M's delight. A beet-flavored raviolo filled with arrayan gel on a bed of strained yoghurt and cucumber was the first dessert. It was a complex preparation to taste, yet another big surprise. Sorry again, no pic of this delicacy
We finally closed with a toasted-sesame pavlova, an interesting twist to the traditional French staple served with a rich chocolate ganache. Not included in the menu, we asked for coffee, fo course. And the night was almost over.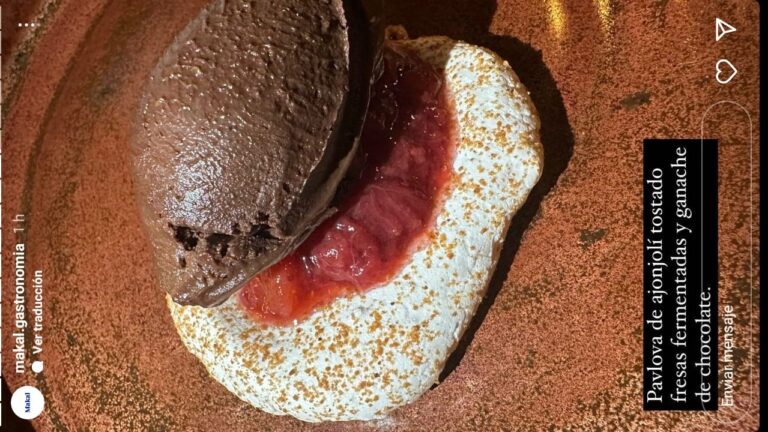 All in all, Makal is a more than pleasant experience. Chef Diego describe his concept as "Contemporary Mexican Cuisine".
I don't want to go as far as calling it "fusion," as it is not really a mix of cuisines. Rather, I try to add a few touches and ingredients to enrich the already wealthy flavors of Mexico.
Worth a special mention is the service. Headed by Manager Ramón, the staff is kind, knowledgeable and likeable. You can see the hand of a good leader in them. Definitively a restaurant worth visiting.
The Festival Gourmet will be on up to this Sunday November 20. Makal is a highly recommended option. You can check all the participating restaurants and events on the festival's official webpage.
Makal
Lázaro Cardenas 311, Puerto Vallarta, Mexico
facebook.com/makal.gastronomia
------ADVERTISEMENT------
------ADVERTISEMENT------
------ADVERTISEMENT------
------ADVERTISEMENT------