So you think you can RISE 2nd Call for Auditions, Sep 30
It's Second Call for Auditions for the 3rd Season of the So, You Think You Can RISE Variety Talent Show!
We are looking for Dancers, Comedians, Magicians, Acrobats, Singers, Bands, Duets, Musicians and any talent that can entertain the hundreds of attendees at this fabulous event!   You will have the opportunity to work with a performance coach preparing to compete for the $20,000 pesos prize and a spot in one of Vallarta's top entertainment venues!
We are accepting the first 25 video auditions by the 30th of September.  Go to https://talento.risepv.com/auditions/ to sign up and submit your video audition NOW! There are only 20 spots left.
If selected from the Video Audition, Live Auditions will take place in October & November at Incanto and Colectivo Hueco.
Mark Your Calendars for the most exciting event in Vallarta:
4 Preliminary Rounds at 3pm on Sunday's at The Palm Cabaret January 14, 21,28, & Feb 4
Grand Finale with hundreds of attendees at Teatro Vallarta on February 18
More details at https://talento.risepv.com/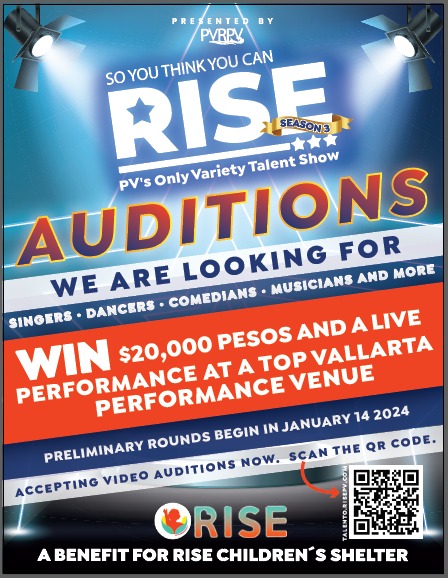 ------ADVERTISEMENT------
------ADVERTISEMENT------
------ADVERTISEMENT------
------ADVERTISEMENT------